Hi FM's Instagram Challenge...Win prizes!
Last year we did our first Instagram challenge.
This was great fun and we LOVED seeing your photos.
This February, however, we've taken our Hi FM Instagram challenge to another level...
First head on over to our page now and follow us > > > Hi FM INSTAGRAM
Now each week you need to snap a photo based on the weekly theme and post it using #hifmradio in the description. Every week Robin & George will choose the winning photo.
WEEK 1 - (3rd - 8th Feb)
Fitness/Fitness Goals. Share your fitness-themed picture with us and this could win you an Ionic Fitbit along with a pair of Fitbit Flyer headphones thanks to FITBIT MIDDLE EAST. Make sure for this week's competition you share your photos using two hashtags #hifmradio and #myreasonis
WEEK 2 - (10th - 14th Feb)
Love. Wanna surprise the other half with a gorgeous gift this Valentine's Day? Share your love photos with us using #hifmradio and you could win a Pamper Hamper full of bath and body goodies from BOMB COSMETICS worth 60 OMR from WUNDEROOM.
WEEK 3 - (17th - 22nd Feb)
Healthy Eats. What healthy snacks and food are you enjoying? Share your healthy eats photos using #hifmradio and you could win a meal for 4 at the newly opened WAGAMAMA OMAN.
WEEK 4 - (24th - 28th Feb)
Friends. Share a photo of your friends and win a smoothie/juice for you and a friend every day for a month from SMOOTHIE FACTORY OMAN in Oman Avenues Mall. Again, share with us using #hifmradio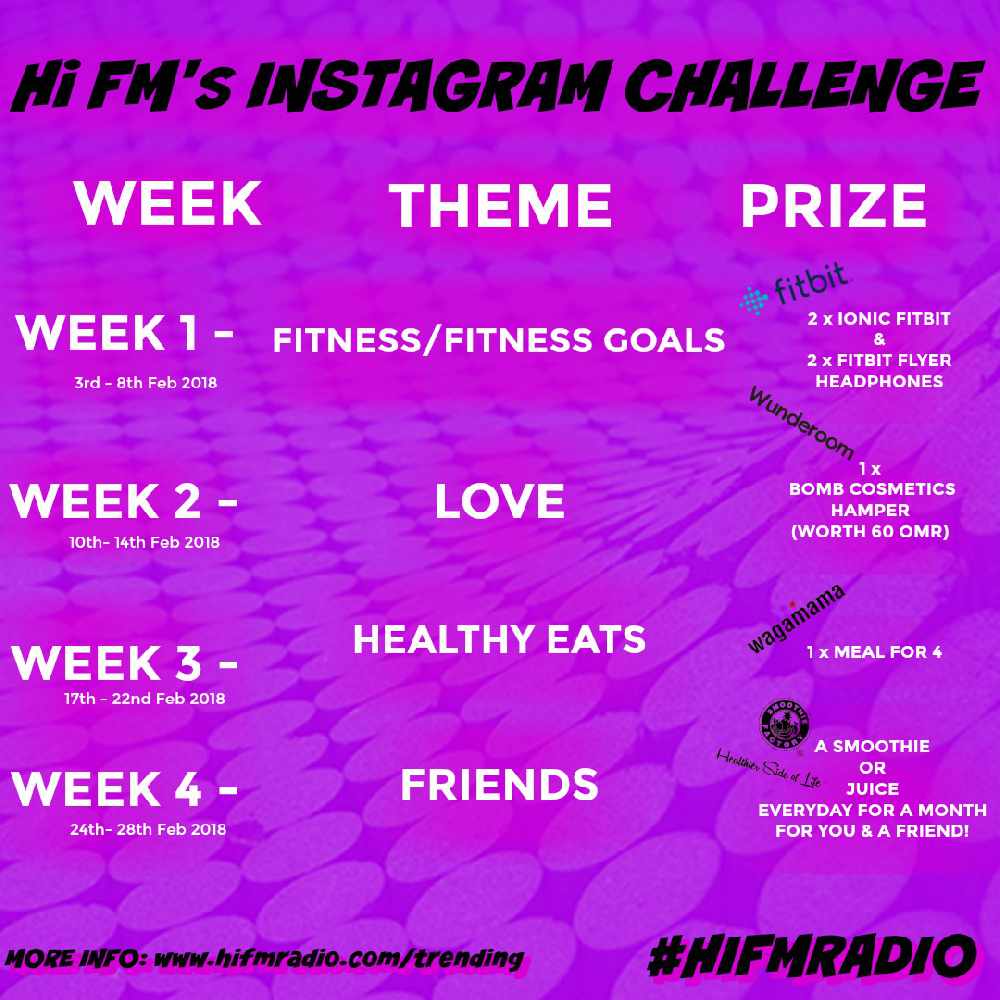 PLEASE NOTE:
This competition is open to people who live in Oman only.
This competition is not in any way associated with Instagram itself.
You must be able to collect your prize if you win from the Hi FM studios in Muscat Grand Mall.
If you win the competition with Smoothie Factory Oman, You'll be able to redeem your prize only from the Smoothie Factory Oman in Oman Avenues Mall.