Spanish Week at Al Tanoor - Shangri-La Barr Al Jissah Resort & Spa
The Shangri-La Barr Al Jissah and Al Husn Resorts are celebrating Spanish Week from Friday, 8 February 2019, until Thursday, 14 February.
During this week you can expect a series of exciting events and even a visit from celebrity chef Chef Montse Estruch!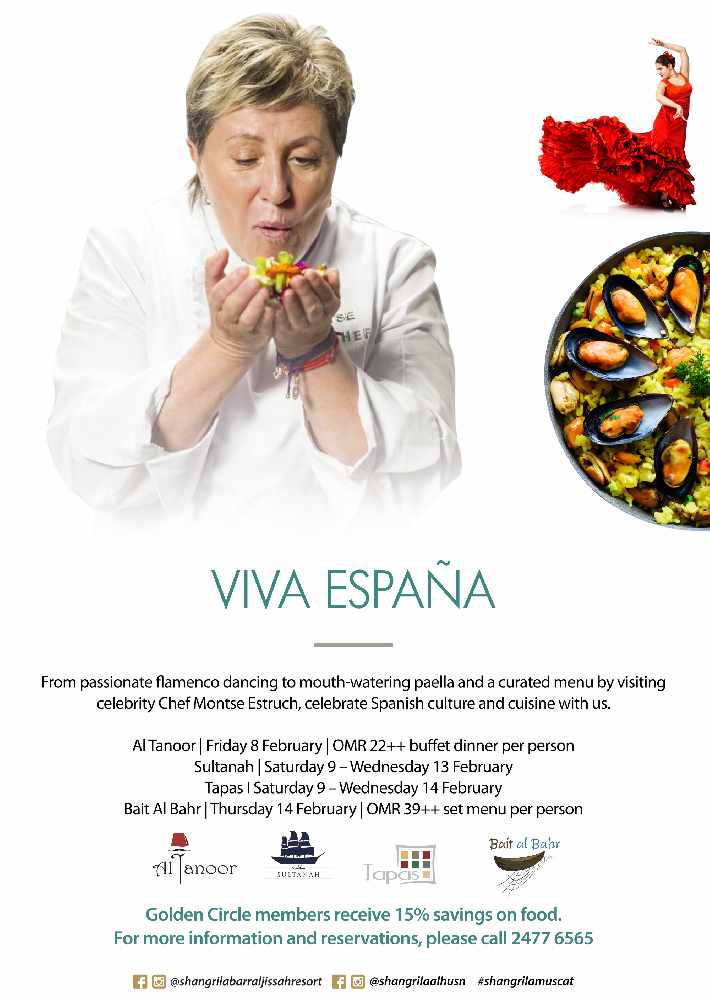 Starting on Friday, 8 February, Al Tanoor restaurant will open its terrace doors for a one-off flamenco performance by the Antonio Gades Company. Also, during Spanish week you'll be able to enjoy delicious Spanish food from a host of buffet stations at the restaurant including a paella fiesta!
On Thursday, 14 February, enjoy a dedicated Valentine's Day menu by Chef Estruch at Bait Al Bahr.
Also, Shangri-La Al Husn Resort & Spa's signature restaurant, Sultanah, will be taken over by Chef Estruch for just five days, from Saturday 9 February 2019 until Wednesday 13 February 2019.
Plus Tapas welcomes visiting Chef Abraham Salum from Dallas, Texas, for a six-day paella fiesta. From Saturday, 9 February 2019, until Thursday, 14 February 2019.
Restaurant reservations are required. Guests may call (968) 2477 6565 or email: fbreservation.slmu@shangri-la.com.
We sent our very own Chris Birks down to Al Tanoor to check out the special menu...
"I went back for so many servings of Paella, it almost started to get awkward. Along with the beautiful tapas treats and grilled meats, it is a menu that will have you feeling suitably stuffed by the end of your evening."