Coronavirus: Oman needs your blood!
Want to help fight the virus here in Oman?
Now is your time to shine and donate blood.
With the ongoing Coronavirus outbreak, there has been an ongoing challenge in getting enough blood donors to ensure sufficient blood supply for patients admitted at Sultan Qaboos University Hospital.
Sultan Qaboos University Hospital, Blood Bank, needs you!
You can book an appointment to donate blood via:

1. Calling the blood bank: 24144987
2. Whatsapp: 92885754
Blood Bank will be open Saturday-Thursday (Friday's are closed).

Please send your full name, preferred date and time for a donation to one of the above numbers.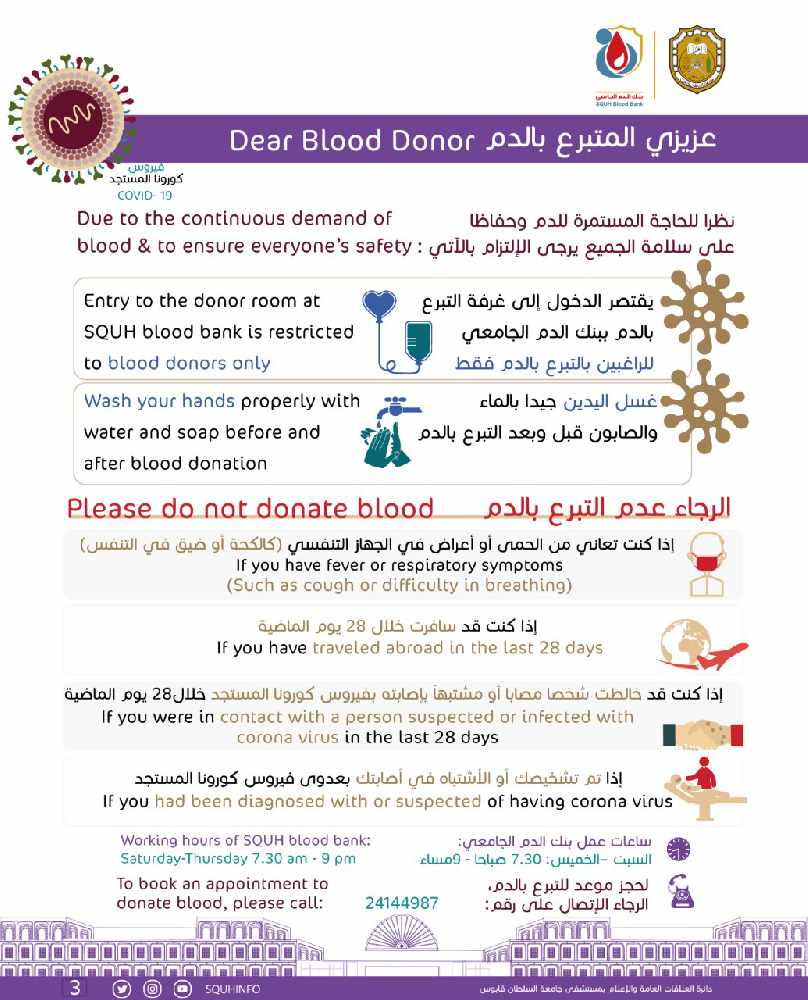 Please do not donate blood :
If you are suffering from fever or respiratory symptoms (such as cough or difficulty in breathing)
If you have travelled abroad in the last 28 days
If you were in contact with a person suspected or infected with coronavirus in the last 28 days
If you had been diagnosed with or suspected to have coronavirus
What steps take place during blood donation:
Please bring a national ID or a resident card
You will be asked to fill a form
You will have your vitals checked
SQUH will check your haemoglobin level using a finger-prick blood sample
Once everything is checked, you will proceed for blood donation
After donation, you are advised to rest in the donor room and have a snack
If you can help, please do as you will be helping to save lives here in Oman.