48 hours in Oman
Travelling to Oman and don't know what to do? Here is a handy guide for you!
Whether you live in Oman and have people visiting or you're coming to Oman for a stopover this is how to spend your two days here!
Day 1 - Bimmah Sinkhole & Wadi Shab
Hire a car, pack a picnic, towel, and your swimming trunks and head on the road for a day out like no other.
Stop one is Bimmah Sinkhole, this is not just hole you look at, take a snap of and get in the car again. This is one of the world's most beautiful natural wonders, full of clean water that you can swim in. If you're a fan of those spas where the fish eat the dead skin off your feet (yummy, we know) you can let the fish have a nibble while you sit on the rocky edge.
If you're traveling from Muscat you can use Google Maps or Waze to navigate your way to Hawiyat Najm Park where the natural beauty is located. We will be honest the park sucks, however, it does have a toilet, but the sinkhole is breathtaking and well worth having a swim in.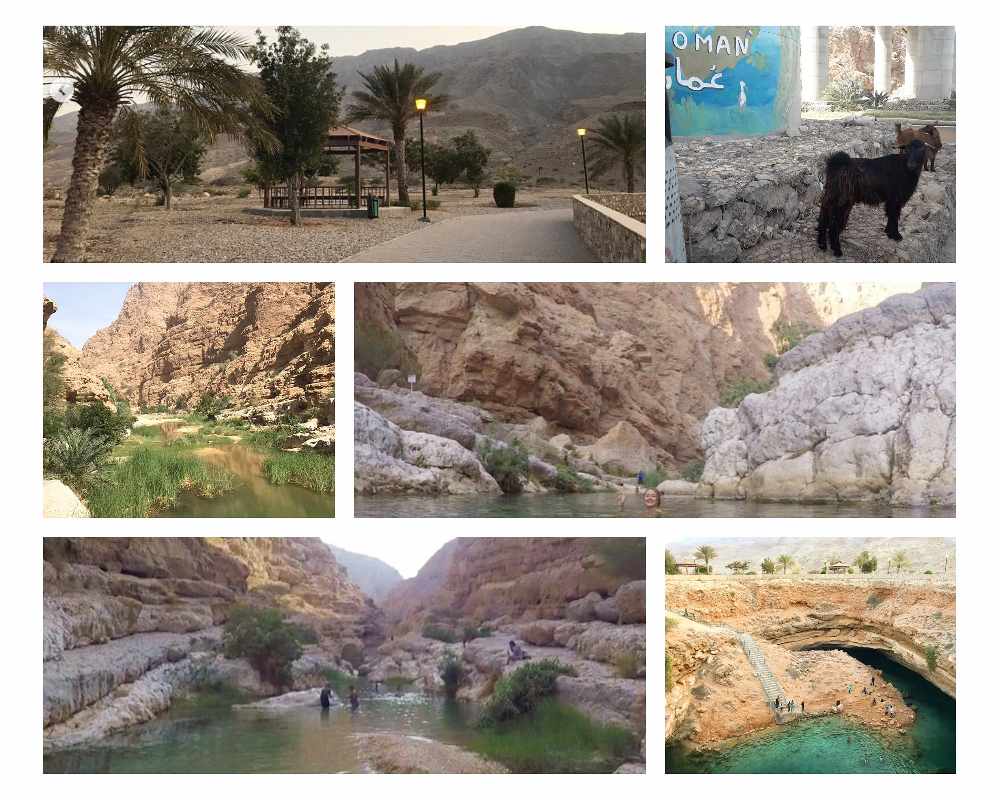 Once you've taken multiple selfies, swam, watched a daredevil jump in (which signs say everywhere not to do, but people still risk it) get back in the car and drive an hour down the road to Wadi Shab. If you're feeling a little more adventurous and don't have a fear of heights we recommend abseiling down Wadi Tiwi.
Wadi Shab is by far the most popular of the Wadis in Oman. When you pull up you will be greeted by many goats who will take no interest in you. There is also a toilet here so you can get changed if you need to. You will need to have cash with you to pay for the short boat ride from the "car-park" to the start of the wadi, these boats normally run until 5pm/5:30pm and cost no more than 2OMR per person.
Some of the Wadis in Oman involve climbing rocks and abseiling, however, this is an easy walk, with a clear route where you can swim in the waters. At the end of the Wadi, some people who suffer from claustrophobia may decide to turn back, but we urge you to swim to the end where you will swim into a cave that has a small waterfall which is stunning.
*Top Tip: If you have water shoes wear these as trainers we'll get ruined and barefoot can be painful when walking on the small stones*
Day 2 - Muscat
If you are a Non-Muslim you can visit Sultan Qaboos Grand Mosque is open Saturday-Thursday 8:30am-11am however we recommend you get there no later than 10am. You will need to be dressed appropriately; women will need to have their hair and bodies covered, men will need to ensure their shorts/trousers are below the knee. You will find taxi drivers renting out head scarfs if you need them.
There is a library in the Mosque where you will often be given Halawa (a traditional Arabic dessert) and coffee where volunteers will offer you information about Islam and the mosque. if you're lucky they may give you some books to take home with you.
Next stop breakfast or maybe an early lunch? Check out Duknah Cafe it's just around the corner from the Mosque and offers a variety of dishes including lentils, camel, Shuwa, Biryani, and even pancakes for the sweet-toothed fans.
Once you've indulged in some great food head down the high way to The Royal Opera House, where you can pay to be taken on a short tour around the building, or simply just have a photoshoot outside, up to you. If you're already tired you are only a few short steps away from Shatti Beach which is home to some of the best sunsets. However, if you're still keen to explore head to The Sultan's Palace which is surrounded by beautiful flowers and also has it's own sea view.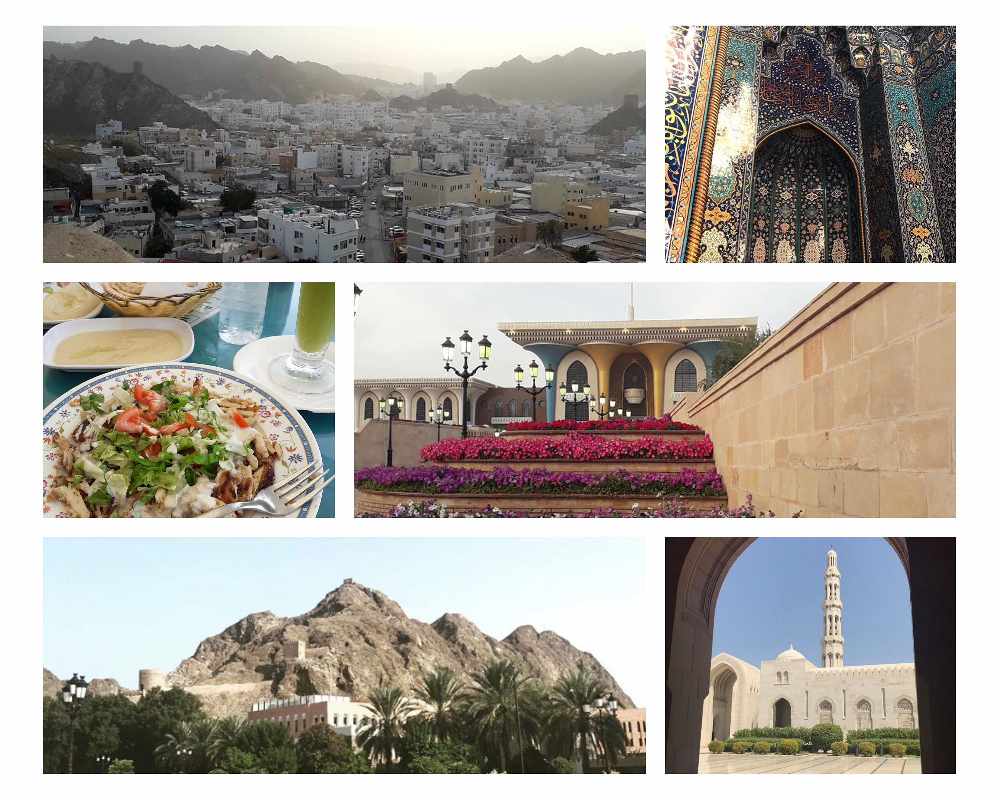 Pop back into the car (more importantly back to the air conditioning, because let's be honest it's HOT) and drive to Mutrah. Don't be decided by the name Mutrah Fort, it's a very small castle but it has a fantastic view from the top, so it's worth climbing the steps.
If you're a fan of haggling for spices, jewellery, crockery, and souvenirs The Souq (market) is the place for you. It is a bit of a maze, but most shops sell the same things so don't worry too much about it. Here you can buy Saffron and some lovely incense.
Finally, for dinner sit down for a lemon mint juice and shawarma plate at one of the two restaurants at the entrance to The Souq. Here you will have a view of the harbour which is often home to the Sultan's ships. We don't say ships lightly, they're huge!!!
That is your 48 hours in Oman done and you haven't even explored half of it!