Ahmad Al Harthy talks about keeping your child safe whilst in the car!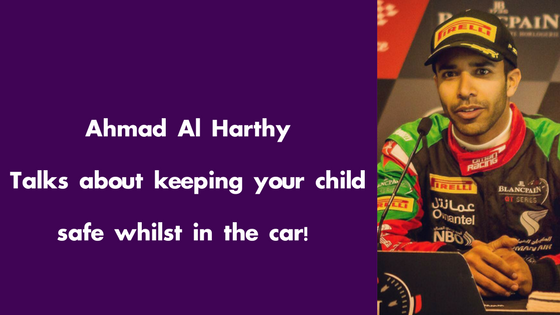 We've seen it so many times in the Sultanate; kids standing up in the back of cars when they should be sat safely in a car seat. The difference between a child having a properly fitted seat and not could be the difference between life and death.
On Monday (September 18th) Robin and George from the Hi FM Morning Show called Omani racing driver Ahmad Al Harthy, who was on the front page of the Times of Oman throwing his support behind the car seat campaign. Ahmad says: "Whenever I'm driving on the road I often see young children sitting on their mother's laps in the front of the car, or in front of them between the seat and the dashboard".
Ahmad says it is such a difficult issue to tackle in Oman because there isn't a law that forces parents to put their kids in a car seat, but he says you don't have to rely on a law to protect your child.
"When I see people who I studied with or went to University with who travel abroad they put their child in a car seat because it's the law, but then they come back to Oman they don't follow the same practices". He even said that there have been times when people have taken better care of transporting deserts in cars than their own children!
Ahmad's final message was so important: "I definitely know you love your kids and want them to grow up to be amazing adults, but the most important thing is a child seat. Invest in one, read about it and educate yourself about it. Make sure you buckle up and teach them the importance of buckling up."
You can see the whole chat with Ahmad Al Harthy on the Hi FM Morning Show with Robin Banks & George Ryland below: