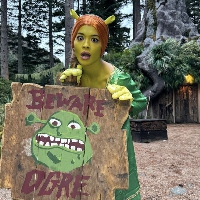 Watch the video here...
Do you remember we showed you that you could stay at Shrek's swamp?
Rita Ora has been to it!
Rita shared a series of photos and a video on her Instagram.
Naturally, she dressed up as Princess Fiona and her husband Taika Waititi was Shrek.
Check the video out here:
"Don't mind us, we're just two grown adults dressing up around Shrek's Swamp 🤪💚 Thank you to @airbnb and @bchesky for this amazing stay! And oh yeah - happy late Halloween baby!!! We saved the best till last! 😋Ps after filming this I realised Fiona is American but it got to dark to re film so you'll have to get a really bad Scottish accent Fiona this year! Your welcome!!"