If there's one thing I've learned since taking up cycling, it's that cyclists come in all shapes and sizes and cycle for different reasons. It's fair to say that we all enjoy cycling, but what is it about the sport that truly motivates us?
Well, some see it as an ideal way to lose weight (yes, it does burn lots of calories and is much easier on the knees than running!)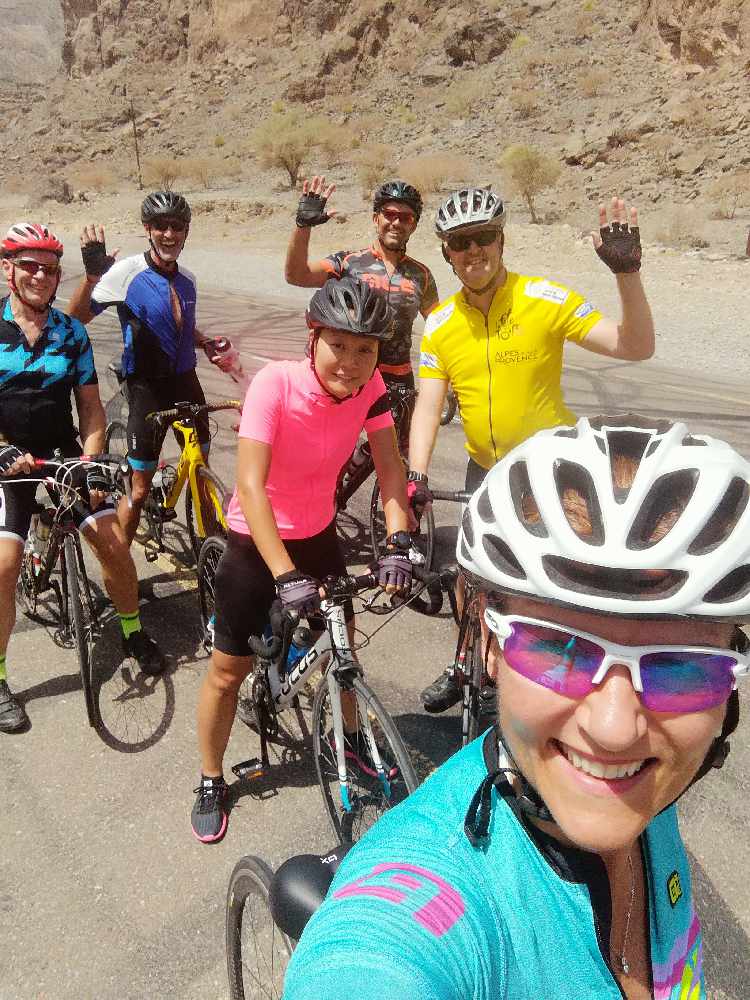 SOME OF THE NITE RIDERS ON A SOCIAL TO WANI BANI KHARUS
Others enjoy the social side of the sport with weekly group rides taking in a scenic route, covering a fair distance, with the odd hill climb thrown in for good measure and, of course, coffee and cake stops – what's not to like?!
In Muscat there are two such cycling groups, both operating via Whatsapp, that cater for cyclists of different levels. Let's Ride Muscat* are a pretty serious bunch of riders who cycle at a blistering pace - not recommended for beginners! The Nite Riders* are a more social group and rides are varied to cater for most abilities.
I do love the social aspect of cycling but I also wanted to see just how far I could push myself personally in this new found sport of mine. So, about four months ago, once I realised I was quite a strong cyclist, I sat down with my cycling coach, Robert, and had a really good chat about the type of cycling that I wanted to focus on. He asked me whether I was more interested in time trial type racing, (against the clock), road racing or hill climbing. I decided on hill climbing. I'm small and muscular and fairly lightweight so I have a physique that suits the hills. If I could find a road race that incorporated hills I could do quite well!
And with that I was presented with "The Training Plan – Phase One" (TP#1) Now, up to this point I had always felt a bit smug about my cycling…I managed to clock up a fair amount of kilometres weekly, but TP#1 blew all that out the window.
Instead of a four day cycling week I was up to six. Focus was on interval training and more interval training. So rather than going for quantity kilometres I was to aim for quality – shorter rides but way more intense.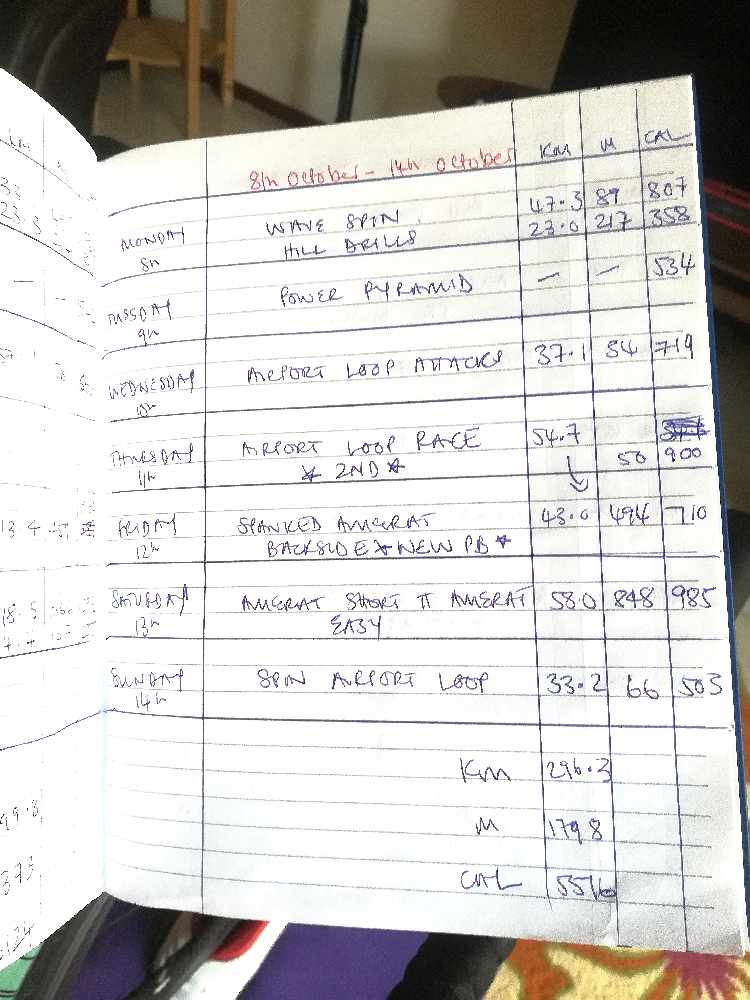 BUSY WEEK DURING TP#1
It's a brutal introduction into the world of an athlete. Trying to persuade your body to get down to work when it just wants to rest is a proper skill! It's a weird feeling being permanently fatigued - and this is only TP#1!
I was told to keep to the plan, and the results would come. Let me tell you they take their time to show! So much hard work week in week out with only minor gains and slightly faster times. I almost fell off the wagon a couple of times but was repeatedly told to trust in the training plan….trust in the training plan…!
About four months into the training plan I went out on a ride alone, and decided to climb The Amerat hill at the start of the ride. The Amerat is the 'go to training hill' for cyclists in Muscat. At just over 3.2 km with an average gradient of 10%, it's a brutal intense climb but a great benchmark for measuring your fitness level. Something must have just clicked, as I knocked the gears up and powered up that hill in 19mins and 20 secs. I knocked 55 seconds off my last PB and am a whole 5mins and 15 secs faster than this time last year. This wasn't a one off. This was the result of four months of hard training.
As soon as the euphoria had worn off, coach Robert told me to aim for the sub 19 minute Amerat by New Year. And so I'm guessing TP#2 will be presented to me shortly and I will groan at the thought of the effort of what is involved. But there's something really special about achieving goals you never thought you would. Even if that means being permanently starving and shuffling around like old lady because your body is so tired!!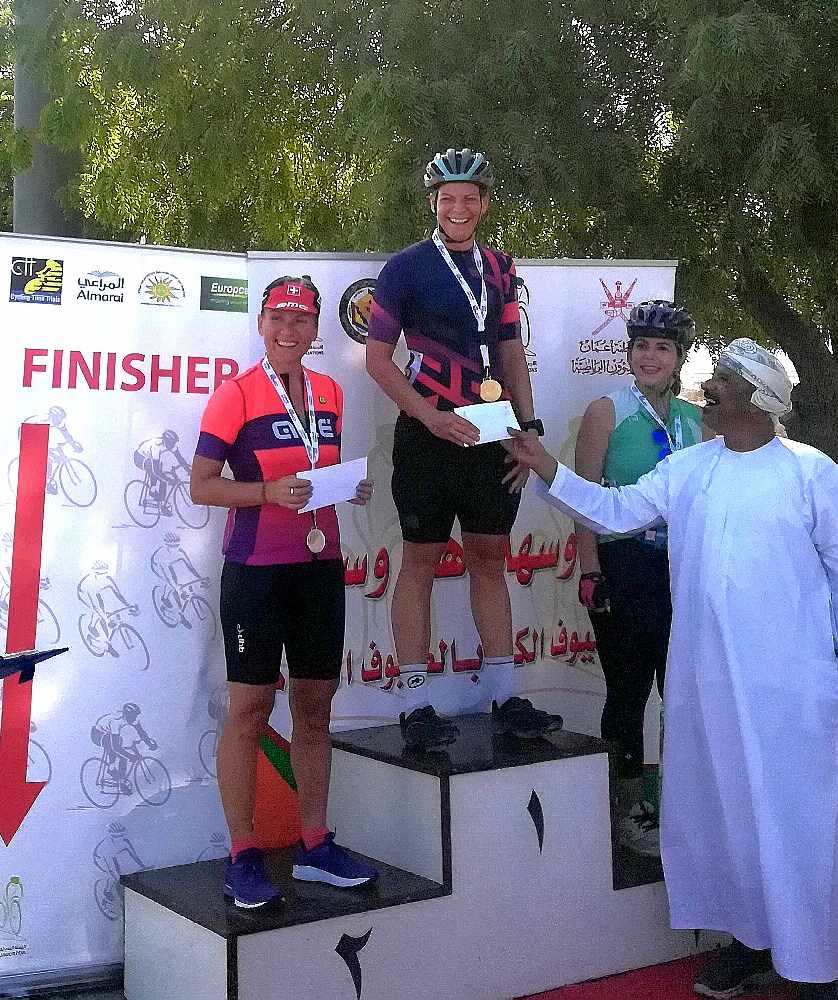 Talking of road racing here's a photo of the podium for the first race of the season on the 12th of October - a flat 64km around the Airport Loop In Muscat. I came second, and was happy with that as the lady who came first, Robynn, is a very powerful cyclist! We all won money! Happy days!!
Speak soon x
* If you'd like to join either cycling group, email me via web page!